4400 SHOOTER Water-Based Fogger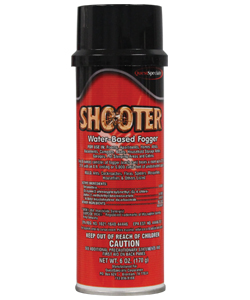 SHOOTER is an EPA registered, water-based, total release insecticide fogger. Formulated with a blend of synergized pyrethroids along with MGK 264® insecticide synergist.
The fogging mist penetrates all areas for thorough insecticidal action. One can treats up to 6,000 cubic feet. Trouble free, one-step killing power.
To control ants, cockroaches, fleas, spiders, mosquitoes, houseflies and other insects in and around rooms, apartments, homes, attics, basements, campers, boats, household storage areas, garages, pet sleeping areas and cabins.
12 - 8 oz cans/case, 6 oz net weight
H-1, F-1, R-0, P-A