4320 ON TIME Metered Insecticide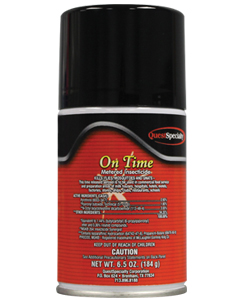 ON TIME Metered Insecticide can be used in commercial, food service and preparation areas of milk houses, hospitals, hotels, motels, factories, stores, ships, clubs, restaurants and schools.
This blend of natural pyrethrin, piperonyl butoxide and MGK® 264 is classified F-1 by the USDA and is effective on flies, mosquitoes and gnats. One can will treat up to 6,000 cubic feet of air space for 30 days, 24 hours a day.
12 - 12 oz cans/case, 6.5 oz net weight
H-2, F-2, R-0, P-A