3700 PALMER PINE Pine Cleaner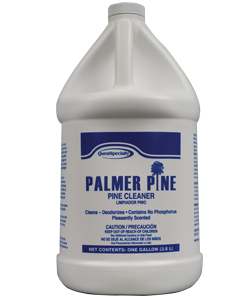 PALMER PINE combines cleaning agents, wetting agents and pine oil to create an industrial strength cleaner able to handle the toughest grease, grime, dirt, oil and other common soils. Pleasant fragrance remains long after use aiding in odor control.
May be used on floors, walls, marble, plastic surfaces, tile and other hard surfaces. Regular use will deodorize urinals, toilets, showers, animal quarters, sinks, garbage receptacles and clothing. Apply with a mop, sponge or towel. May be diluted for odor control or use full strength for those tough cleaning jobs.
For laundry, apply directly to stains, rub in well, and wash as normal. As a laundry booster and deodorizer, add 1/2 cup to wash with regular detergent.
Gallons (4x1), Drum (55 gal), Pails (5, 6 gal)
H-1, F-0, R-0, P-A