3620 SPRING MIST Concentrate Odor Counteractant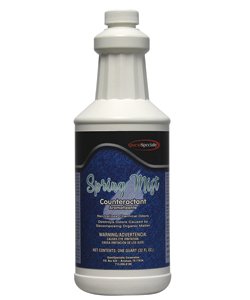 SPRING MIST COUNTERACTANT is a highly effective concentrated odor eliminator. Works to chemically destroy odors. Effective against offensive odors caused by animals, mildew, laundry, smoke, tobacco, sewage, oil and gas. Especially effective in eliminating odors caused by decomposing organic matter.
Strong enough to eliminate odors in stockyards and sewage plants yet pleasant enough to be used in institutional and housekeeping applications.
When diluted with up to 10 parts water, this product can be used as a space spray with pump or mist sprayer, applied directly on surfaces or used in conjunction with hot water extracting carpet cleaning machines.
Quarts (12x1), Gallons (4x1), Drum (55 gal), Pails (5, 6 gal)
H-1, F-0, R-0, P-A