3610 PREDATOR RTU Food Contact Surface Sanitizer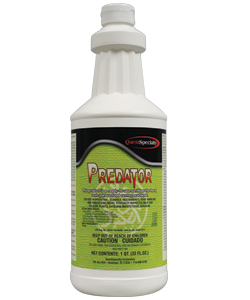 PREDATOR is a ready to use, multi-purpose sanitizer. It is designed primarily for markets requiring a no-rinse sanitizer in food contact application. Eliminates 99.999% of the following bacteria when used according to directions: Campylobacter jejuni, Salmonella enteritidis, Escherichia coli, Shigella dysenteriae, Staphylococcus aureus, Listeria monocytogenes, Yersinia enterocolitica, and Salmonella enterica.
It is excellent for sanitizing food processing equipment, dairy equipment, food utensils, dishes, silverware, glasses, sink tops, countertops, refrigerated storage and display equipment.
For use in schools and colleges, veterinary clinics, pet shops, airports, hotels, dairy farms, food and beverage processing plants, convenience stores, sports stadiums, and department stores as a sanitizer for hard surfaces.
Approved for use in federally inspected meat and poultry establishments, agricultural facilities, beverage plants, and food processing plants. No rinsing is required when used as a sanitizer.
12 quarts per case
H-1, F-0, R-0, P-A