3570 ENCORE RTU Non-Acid Disinfectant
Bathroom Cleaner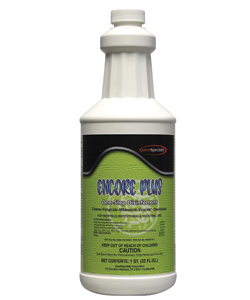 ENCORE is an EPA registered, ready-to-use, disinfectant, cleaner, fungicidal, mildewstat, virucide and deodorizer for use in hospitals, institutions and industrial areas.
This quaternary disinfectant contains four strains of ammonium chloride which provide protection and aid in the reduction of cross contamination against a broad spectrum of gram positive and gram negative bacteria. Effective against HIV-1 (AIDS virus), Trichophyton mentagrophytes (Athletes Foot Fungus) and many other bacteria.
This is a perfect product for competing with other Non-Acid Bathroom Cleaners in the market place today because of its broad claims and economical price.
Quarts (12x1), Gallons (4x1), Drum (55 gal), Pails (5, 6 gal)
H-1, F-0, R-0, P-A