3500 SKIDEW Mildew Stain Remover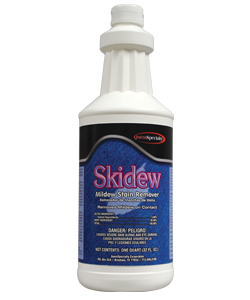 SKIDEW is designed to instantly remove mildew on contact. Can be used in bathrooms on tile and grout, around the tub or shower stalls, on shower curtains, vinyl canopies, mats, awnings, auto and boat tops, patio furniture, refrigerator gaskets, ceilings, walls and many other areas where mildew is a problem.
With periodic use, stains will not reappear. Monthly use will eliminate mildew stains permanently. Can be sprayed under eaves or on unpainted surfaces prior to painting to prevent future mildew appearance. Fresh pine scent.
Gallons (4x1) - Private Label Only
Quarts (12x1), Drum (55 gal), Pails (5, 6 gal)
H-2, F-0, R-2, P-C