2990 GONE Carpet Stain Remover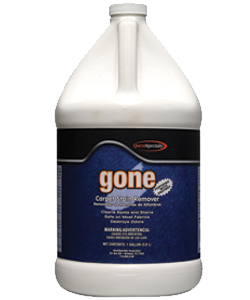 This product is a powerful carpet stain and spot remover. Contains strong cleaners and degreasers to remove stains due to dirt, ink, grease, oil, mud, ketchup, urine, vomit, coffee, tea, alcoholic beverages, soft drinks and blood. This product quickly saturates materials for instant cleaning. Leaves no residue.
Contains no solvents which might soften carpet backings. This product also contains an odor modifier which destroys odors due to urine, vomit & blood through oxidation catalysis. A pleasant fragrance remains. Although this product will not harm most carpet fabrics, it is recommended that the carpet be tested for color fastness prior to using.
To test for color fastness, spray small area of carpet in a hidden or out of the way spot & let dry. If product discolors carpet, contact supplier before using.
Quarts (12x1), Gallons (4x1), Drums (55 gal), Pails (5, 6 gal)
H-1, F-0, R-0, P-A