2910 GRIP Thick Phosphoric Acid Cleaner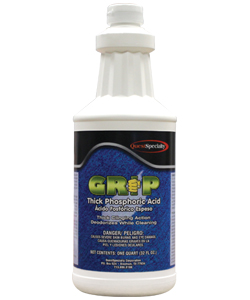 GRIP is a thick, phosphoric acid based porcelain, tub, tile, fiberglass and bowl cleaner. Removes scale, lime, rust stains, hard water deposits and metallic soap scum. Safe on chrome.
Excellent brass, bronze and copper cleaner. Thick clinging action assists in easy removal of undesirable stains and deposits eliminating the need for abrasive cleaners.
Leaves a pleasant cherry fragrance. Also excellent for use on ceramic tile, steam tables, shower stalls, cooking kettles, drinking fountains, bed pans, sterilizers and coffee urns.
Quarts (12x1), Gallons (4x1), Drum (55 gal), Pails (5, 6 gal)
H-2, F-0, R-1, P-B