2890 PT-100 Acid Tub and Tile Cleaner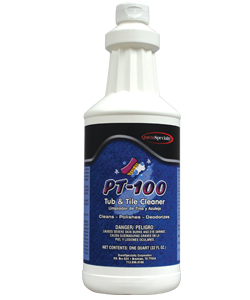 PT-100 is an acid based tub & tile cleaner. This mint scented product contains a blend of acids, wetting agents, emulsifiers and chelating agents to cut water spots, soap scum and scale on all tile surfaces.
Safe on stainless steel, chrome and fiberglass. Can be applied with a sponge or sprayed on with a trigger sprayer. Allow product to work. Rinse off to leave surface clean and sparkling.
Quarts (12x1), Gallons (4x1), Drum (55 gal), Pails (5, 6 gal)
H-2, F-0, R-1, P-B