2670 POWER SOLV Butyl Cleaner 20:1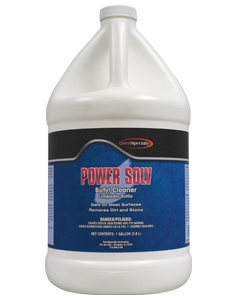 POWER SOLV is a medium duty, butyl cleaner which may be diluted with up to 20 parts water. Penetrates quickly to lift off stains and dirt from walls, floors, machinery, vinyl and carpets.
Can be used in steam cleaners, pressure washers or rotary machines using either warm or cold water to remove grease, oil, dirt, grime, carbon, soot, ink, food and most other soils. Contains strong cleaners, emulsifiers, penetrants, wetting agents and soil suspension agents.
Gallons (4x1), Drums (55 gal), Pails (5, 6 gal)
H-2, F-0, R-0, P-C