2660 DYNAMITE Butyl Cleaner 40:1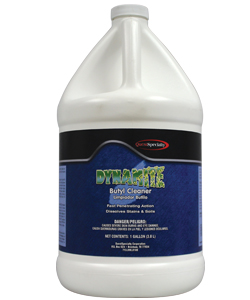 DYNAMITE is a heavy duty, butyl cleaner. This butyl cleaner may be diluted with up to 40 parts water for general purpose cleaning. Removes dirt, grease, oil and most other soils quickly and easily. Can be used in steam cleaners, pressure washers or rotary machines using either warm or cold water.
Works well for cleaning carpets, walls, floors and industrial machinery. Contains butyls, detergents, emulsifiers, wetting agents, sequestering agents, penetrants and corrosion inhibitors.
Gallons (4x1), Drums (55 gal), Pails (5, 6 gal)
H-2, F-0, R-0, P-B