264802001-48PK KETTLE TABS™ Popcorn Kettle Boil-Out Cleaner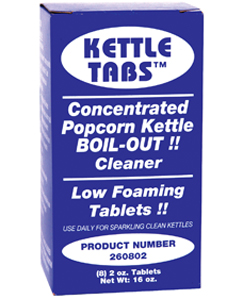 KETTLE TABS™ are a concentrated popcorn kettle cleaner with no chlorinated solvents, toxic fumes or odors. No messy powders to measure and handle.
Makes boil-outs quick, accurate and easy. They are pre-portioned to assure cost effective and perfect results each and every time.
Kettle Tabs are a specially formulated, heavy duty, low foaming agent designed to meet the toughest cleaning conditions in any popcorn kettle.
Using Kettle Tabs will enhance the taste and quality of your popcorn.
48-2 oz. tablets (6 boxes of 8 ea.)
HMIS Ratings: H-3, F-0, R-1, P-B
264802001-48PK Kettle Tabs Popcorn Kettle Boil-Out Cleaner