2640 ZIP Citrus Cleaner and Degreaser 20:1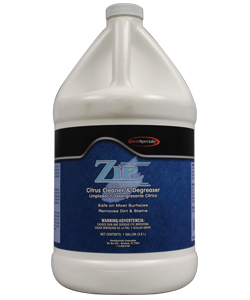 ZIP Citrus Cleaner and Degreaser can be diluted with up to 20 parts of water for most applications. Can be used through steam cleaners or pressure washers. This water based product contains d-limonene to quickly clean walls, floors, machinery, vinyl, metal, porcelain, concrete and carpets.
Will remove grease, oil, lipstick, wax, carbon, soot, ink, soap scum, food stains and most other soils. Product does not contain any butyls. It is organic and biodegradable.
Gallons (4x1), Drum (55 gal), Pails (5, 6 gal)
H-1, F-0, R-0, P-B