2620 SHOWTIME Invisible Coating & Bug Shield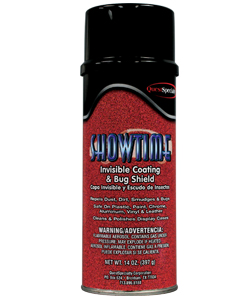 SHOWTIME cleans, shines and protects plastic, leather, acrylic, plexiglas, lexan, chrome, fiberglass and paint. Dries quickly and buffs to a streak free finish. Invisible protective coating protects surfaces and repels dirt, dust, fingerprints, smudges and bugs. Resists scratching and marring of surfaces. Prevents cracking, fading and hardening of vinyl surfaces.
Can be used to clean and polish glass surfaces such as display cases and counters, tables, mirrors and more. Repels water, is odorless, prevents fogging and is non-abrasive.
Protects vehicles against hard to remove insect remains. Also excellent for use in retail display cases on counters, leather & vinyl upholstery, fiberglass boats.
12 - 16 oz. cans per case, 14 oz. net weight
H-1, F-1, R-1, P-A