2510 Out-of-Sight Carpet Stain Remover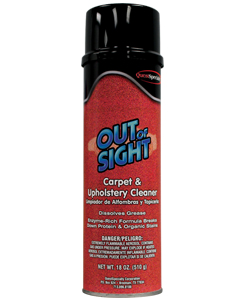 OUT OF SIGHT rejuvenates carpet and upholstery to like-new condition. Restores texture of nap and pile and leaves a pleasant fragrance. Heavy-duty foam penetrates deep into surface and lifts out grease, dirt and debris.
Actually breaks down protein and organic soils and stains such as blood, cosmetics, urine, fecal matter, coffee, Kool-Aid®, ink, wine, iodine, spoiled foods, vomit, pet stains, mildew, etc. Will not harm fragile automobile finishes. Recommended for spot cleaning carpet, upholstery, textiles, vinyl and synthetics.
Works great in homes, automobiles, offices, schools, hospitals, restaurants, hotels/motels and institutions. An effective cleaner for blood, urine, ketchup, ink, lipstick, soft drinks, alcoholic beverages, grease, oil, dirt, mud, vomit, coffee, tea, milk and ice cream.
• Dissolves Grease and Soil Stains
• Digests Protein and Organic Stains
• Enzyme Digestant
12 – 20 oz. cans per case, 18 oz. net weight
H-1, F-1, R-1, P-A