2500 DUST B GONE Air Duster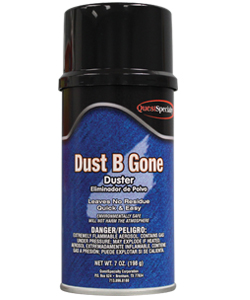 DUST B GONE is a blend of environmentally safe ingredients packaged at a high pressure which offers a quick method of removing dust, paper chips, staples, paper clips and other foreign material from hard to clean areas such as keyboards and printers. Just point the nozzle towards area to be cleaned and spray.
The strong blast quickly cleans foreign material from most surfaces. Use wherever screen cleaner or body cleaner cannot be applied. Can also be used as a film duster. Due to VOC regulations, not available for sale in California and Utah.
12 - 12 oz cans/case, 7 oz net weight
H-1, F-4, R-0, P-A