2155 BACK DOWN All Season Surface Repellent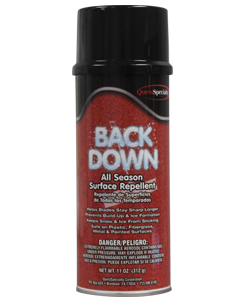 Specially formulated wax keeps snow, slush and ice from sticking to snow removal equipment, plows, snowmobiles, snowblowers, ski equipment, snow shovels and more.
Can also be used on the underside of lawn mowers, weed eaters, hedge trimmers, rototillers and other lawn maintenance equipment to prevent grass clipping and dirt build-up, clogging and wear-and-tear.
Helps blades stay sharper longer, making equipment last longer. Creates a barrier to protect metal, fiberglass, plastic and painted surfaces from build-up and damage.
• Helps Blades Stay Sharp Longer
• Prevents Build-Up & Ice Formation
• Keeps Snow & Ice From Sticking
• Safe on Plastic, Fiberglass, Metal & Painted Surfaces
12 - 16 oz cans/case, 11 oz net weight
H-1, F-3, R-0, P-B