2110 KLEEN ALL Purpose Cleaner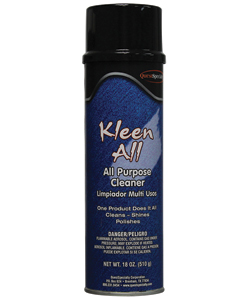 KLEEN ALL is a heavy duty butyl base foaming cleaner. This is an excellent product for use anytime grease is a problem. The combination of emulsifiers, surfactants and butyl enable this product to be used in many different areas that range from kitchen degreasing to engine degreasing.
The stable foam clings to permit long lasting contact with irregular and vertical surfaces.
12 - 20 oz cans/case, 18 oz net weight
H-1, F-1, R-1, P-A