2070 WHAM Foaming Citrus Cleaner & Degreaser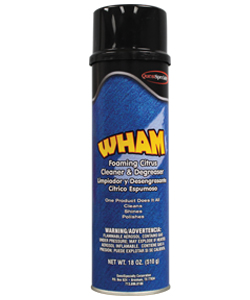 WHAM is an all purpose foaming citrus scented cleaner and degreaser. This combination of emulsifiers, surfactants and d-limonene works to clean stubborn grease and soil.
The clinging foam can be used on vertical and irregular surfaces, as well as on horizontal surfaces. Leaves surface smelling fresh and clean. This product can be used on metal, porcelain, tile, wood and many other places.
12 - 20 oz cans/case, 18 oz net weight
H-0, F-1, H-1, P-A