140611001-16AR Brite Shine
Stainless Steel Cleaner-Polish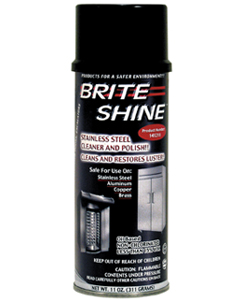 BRITE SHINE™ is a unique, mineral oil-based cleaning and polishing formulation in which every ingredient is of food grade or other high quality. It has less than 15% Volatile Organic Compounds (VOC's).
Quickly cleans, restores and prolongs luster of metal surfaces. Easy to use. Contains no acids, alkalis, abrasives or heavy creams. Leaves behind a protective coating which resists finger marking and smudges. Contains no CFC's, chlorinated solvents, 1,1,1-Trichloroethane or Hexane.

Available in quarts, gallons, 6/40 wipes and 16 oz. aerosol cans. 11 oz. net wt.

HMIS Ratings: H-1, F-3, R-0, P-A.
140611001-16AR Brite Shine Stainless Steel Cleaner / Polish - 6-16 oz. cans
141211001-16AR Brite Shine Stainless Steel Cleaner / Polish - 12-16 oz. cans
141611DC1-DISP Brite Shine Aerosol Counter Display - 16-16 oz. cans in Counter Display Case